10 Best Yelapa Tours You Won't Want to Miss in 2023
---
Ready to book one of the best tours of Yelapa Mexico?
You're in the right place because the 10 best Yelapa tours are all featured here.
As someone who has done a Yelapa tour and lives in Mexico, I've made sure to only highlight the best tours in Yelapa in this article — so know all these have been vetted!
Mexico Yelapa is a colorful and vibrant beach town nestled into Mexico's Bay of Flags (Bahía de Banderas). Yelapa is famous for its gorgeous waterfalls, lush jungle, mule rides along rocky tracks, scenic water, and great vibes.
It's an incredible place to spend a day either chasing down elusivecascadas, snorkeling off the beach, orflying overhead in a private Cessna 182.
No matter your budget or preferences, this list has something for you! Ready to learn about the best things to do in Yelapa?Let's dive in!
Our Top 3 Picks: Best Yelapa Tours
Top 10 Best Yelapa Tours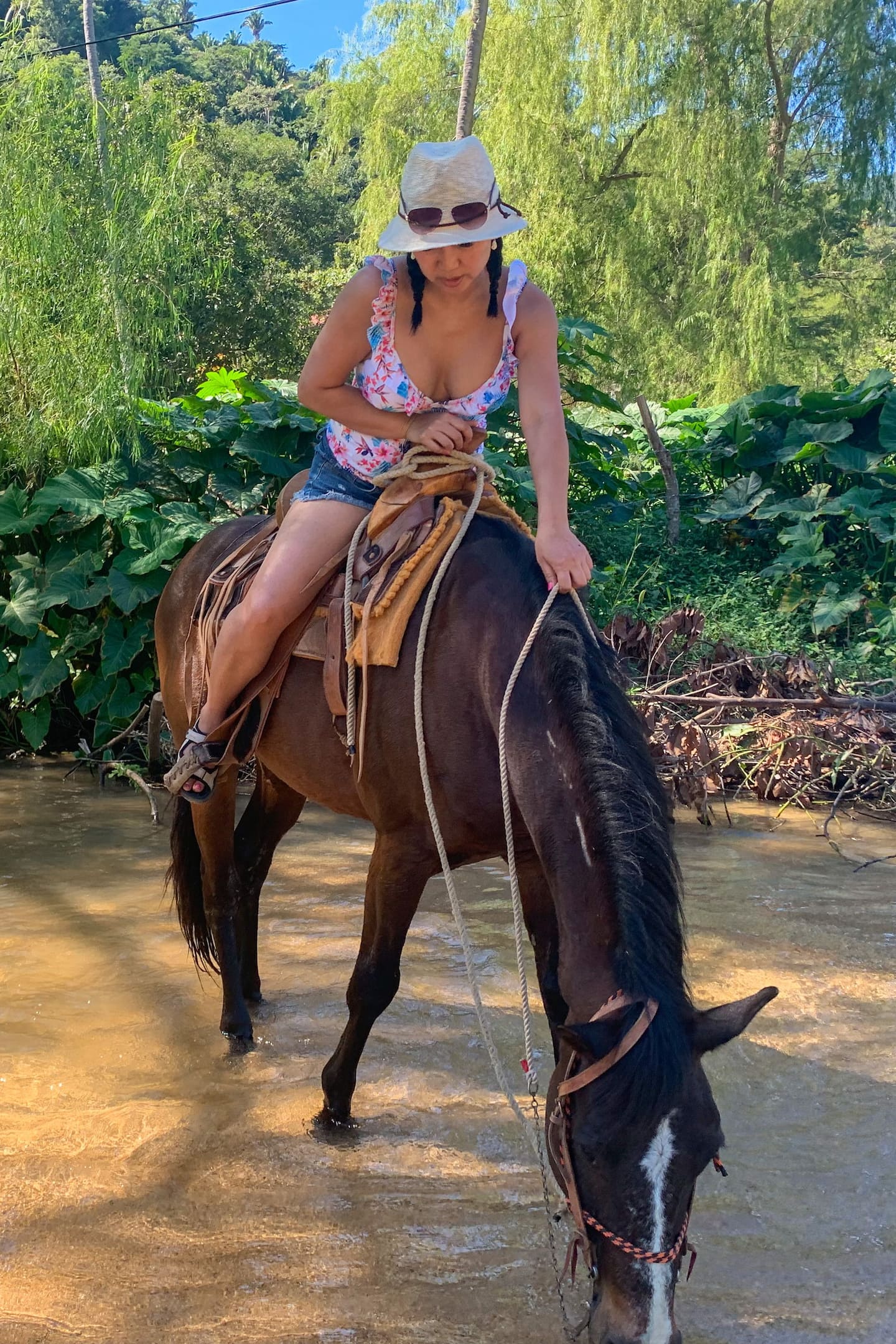 ⭐️Rating: 4.88 out of 5 Stars | ⏳Tour Length: 6.5 hours |Check Rates and Availability
Are you looking for a once-in-a-lifetime tour with a super storytelling host? If so, thisYelapa Horseback Riding Tourcould be just the thing!
Kick off your day with a 25-minute boat ride to see stingrays, dolphins, and even whales. For this, you'll have to be visiting during the Puerto Vallarta whale watching season from about December to March.
Next, you'll ride a horse to a beautifulYelapa Mexico waterfall. This giant hidden "cascada" is a great place for a refreshing swim.
Spend time in a rustic fishing village with the option to buy food and drinks. Explore the town, enjoy the beach, rent a kayak or paddleboard, and snap pictures with a giant iguana.
Best Yelapa Tours
⭐️Rating: 5 out of 5 Stars | ⏳Tour Length: 7 hours |Check Rates and Availability
There's something magical about water falling down jungly cliffs. It's a quintessential way to enjoy the best of nature — and what better way to experience this natural phenomenon than onthis Yelapa waterfalls tour?
During the excellent excursion with an incredible host, you'll take a boat to Yelapa to enjoy views of marine life. If you're lucky, you might get to see dolphins, sea turtles, manta rays, and whales in winter.
Once you reachYelapa Island, you'll walk to Yelapa Falls. This is a popular and easy-to-access waterfall but is stunning nonetheless. Next, enjoy a Yelapa waterfall hike through the jungle with river crossings.
Swim under the falls, eat a yummy snack, and take pictures or relax. Finish off with time on the beach or at one of the Yelapa restaurants.
Best Yelapa Tours
⭐️Rating: 5 out of 5 Stars | ⏳Tour Length: 6 hours | ⛵️Check Rates and Availability
Adventure and relaxation await on this customizableprivate boat tour to Yelapa tour.
Catch a private boat to Yelapa on a 26-foot panga boat. Cruise through Banderas Bay and go snorkeling in a coral reef before visiting Yelapa Jalisco Mexico.
This great little town is an awesome spot to do awaterfall hike, go swimming, snorkel, relax on the beach, or try your hand at parasailing. Or kick back and relax with the included chilled beer, water, soda, and snacks.
One note:You will need to be in good enough shape to jump in and out of the boat on this Yelapa day trip from Puerto Vallarta.
Best Yelapa Tours
⭐️Rating: 5 out of 5 Stars | ⏳Tour Length: 1.15 hours | ✈️Check Rates and Availability
Take to the air on this amazingprivate airplane tour above Isla Yelapa. The journey begins at Puerto Vallarta International Airport. You'll then board a Cessna 182, which will take you high above the scenic coastline.
This tour can accommodate up to three passengers. If you're lucky, you'll get to sit in the co-pilot seat and try your hand at controlling and flying the plane.
During this aerial tour, you'll enjoy fabulous views of Yelapa IslandPuerto Vallarta, Los Arcos de Mismaloya, and the entire expanse of the Bay of Banderas, among others.
Best Yelapa Tours
⭐️Rating: 4.5 out of 5 Stars | ⏳Tour Length: 7 hours |Check Rates and Availability
Escape to a serene tropical paradise on this unforgettableYelapa and Majahuitas Day Tour from Puerto Vallarta, where crystal-clear waters and lush forests await.
Start your day with a light breakfast on board, then immerse yourself in nature's beauty as you explore the charming villages and stunning bays.
Discover the enchanting Banderas Bay and Cola de Caballo waterfalls, and take advantage of the abundant marine life by snorkeling, swimming, or kayaking.
Unwind at the exclusive Playa Majahuitas Beach Club, where you can indulge in paddle boarding, savor a delicious buffet lunch, and sip on unlimited non-alcoholic beverages.
Whether you're a thrill-seeker or simply looking for a serene getaway, this is one of thebest Puerto Vallarta Yelapa toursfor the perfect blend of adventure and relaxation.
Best Yelapa Tours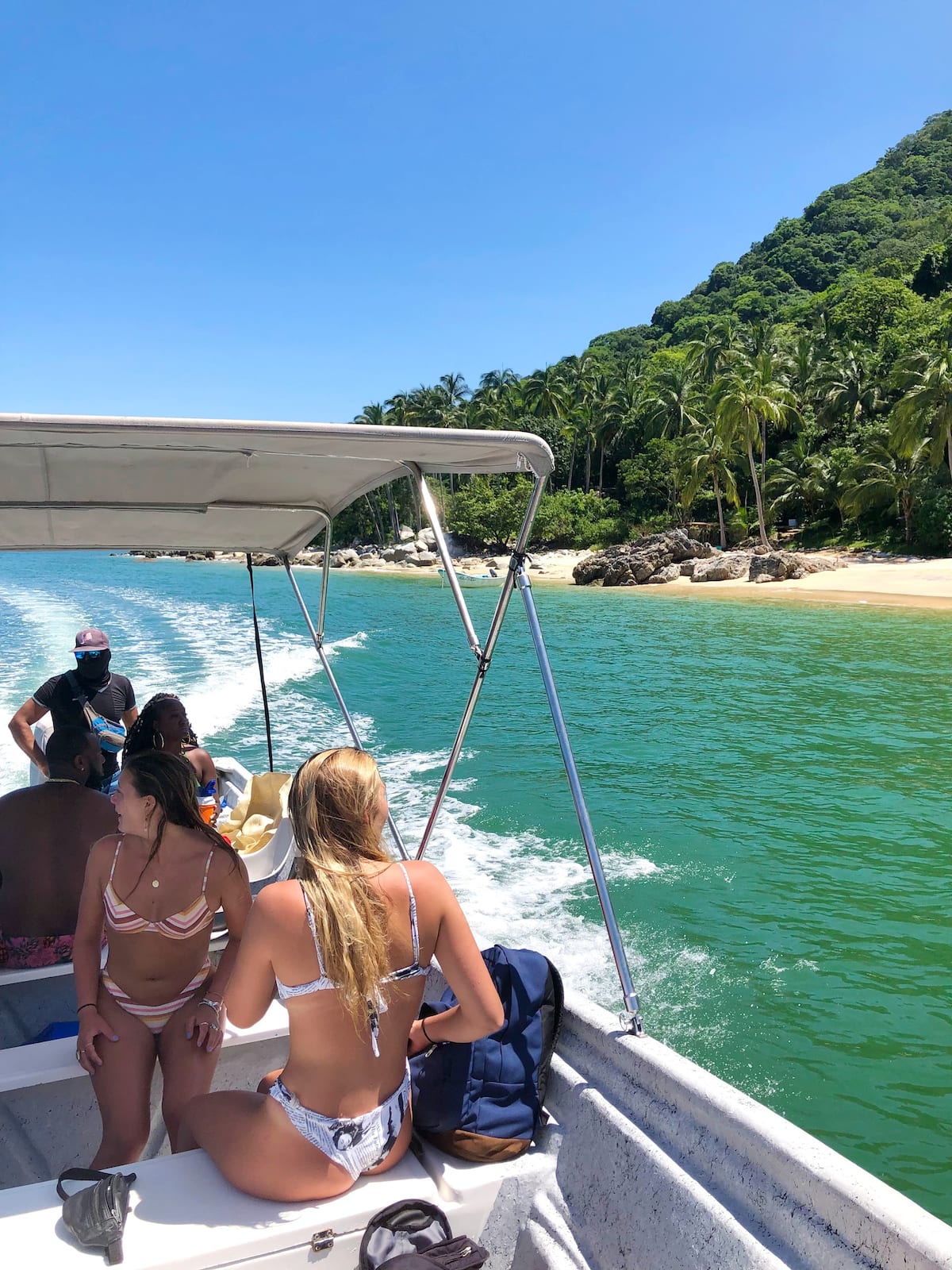 ⭐️Rating: 5 out of 5 Stars | ⏳Tour Length: 5.5 hours | ️Check Rates and Availability
This private paradise getaway tour is another one of the best Yelapa Tours from Puerto Vallarta you can find. Join an expert local guide for an exciting day full of authentic cultural experiences and natural beauty.
Start off your day with a 25-minute bus ride local-style to Boca de Tomatlan, a small fishing village.
跳下Yelapa水出租车和裙子edge of the Bay of Banderas, enjoying spectacular views of beaches and mountains. Once in Yelapa Town, you'll explore a waterfall, a hidden pool, and relax at a restaurant on the beach.
With colorful houses, lush vegetation, and scenic views of the bay, thisPrivate Yelapa Paradadise Touris sure to be an unforgettable day in Yelapa México.
Best Yelapa Tours
⭐️Rating: 5 out of 5 Stars | ⏳Tour Length: 6-7 hours | ️Check Rates and Availability
Yelapa boat tours don't get much better than thisall-inclusive excursion on a 100-foot mega yacht.
Enjoy an incredible luxury tour on this beautiful boat equipped with an open bar as well as water activities like kayaks, paddle boards, fishing gear, water tubes, and a water mattress.
You can even geta massage at no extra costfrom the onboard masseuse.
While you tour Yelapa, you'll have a chance to snorkel at Playa la Piramide, and then either hike to the famous Yelapa waterfall Puerto Vallarta or spend time relaxing atYelapa Beach Jalisco.
Best Yelapa Tours
⭐️Rating: 5 out of 5 Stars | ⏳Tour Length: 5.5 hours |Check Rates and Availability
If you're looking for an awesome day trip to Yelapa from Puerto Vallarta, thisprivate boat tourcould be a perfect choice. Join a top-notch captain and crew for a memorable day on the Bahía de Banderas.
Explore incredible Yelapa beaches Mexico that are only accessible by boat, and also visit Los Arcos National Marine Park, hike to a waterfall, and enjoy fabulous Yelapa Mexico snorkeling.
Finish off with time to relax on the beach, or eat at a Yelapa restaurant if you choose. Along the way, you'll learn fascinating information from your guides and boat captain.
One note:This tour includes an ice chest, so you can bring your own drinks along.
Best Yelapa Tours
⭐️Rating: 5 out of 5 Stars | ⏳Tour Length: 5.5 hours |Check Rates and Availability
Are you ready for one of the best Yelapa tours Puerto Vallarta has to offer? If so, consider this amazing day on the water on thisLimousine of the Sea tour with Chica Locca tours!
This Yelapa all-inclusive tour includes full service with comfortable spaces to relax on the deck, breakfast, unlimited drinks from the open bar, and a slew of water toys to choose from.
There is even a masseuse on board to make your voyage extra luxurious and relaxing. Visit two different beaches and a waterfall. Swim or snorkel, and have the time of your life on thisMega-Yacht Yelapa Tours experience.
Best Yelapa Tours
⏳Tour Length: 8 hours |Check Rates and Availability
If you love partying, getting an adrenaline boost, and venturing into the jungle, thisBootleg Raicilla Jungle Touris where it's at.
何p aboard an ATV behind an expert jungle-road driver, blast up to the top of a mountain, then get blindfolded and taken into a hidden distillery. Here, you'll learn about Raicilla moonshine.
Sip delicious cocktails made from Raicilla and fresh-picked tropical fruit. Next, you'll learn all about how Raicilla is grown, take spectacular pictures from the top of the mountain, and then swoop back down the hill.
To finish off, you can buy some delicious "cocos locos" and yummy sandwiches.
Best Yelapa Tours: FAQs
Where is Yelapa?
If you're wondering where Yelapa Mexico is, this scenic little beach town is nestled between the Sierra Madre mountains on the southern side of Banderas Bay.
Yelepa Map
It is located in Cabo Corrientes, in the state ofJalisco Mexico.
Although Yelapa is sometimes called an island, it is not actually an island at all. However, itishard to access except by boat.
Visitors enjoy coming to Yelapa because there are no cars there. They like the laid-back vibes, scenic vistas, lovely waterfalls, and old-timey feel.
What is Yelapa known for?
Yelapa is known for its jungly waterfalls, beautiful bay, and tranquil beach vibes. Since it is only truly accessible by boat, it also has a fun downscale feel.
This particular spot is car free. Instead, you can travel on foot, by mule, or by ATV.
There are many boutique and family-run hotels, restaurants with local cuisine, and women selling amazing coconut and lemon pies from the sands of Yelapa beach Puerto Vallarta.
Is Yelapa worth visiting?
Absolutely!If you love nature, getting away from the masses in Puerto Vallarta and Nuevo Vallarta, and going on an incredible boat ride through the Bay of Banderas, Yelapa is absolutely worth visiting.
Yelapa Puerto Vallarta Jalisco is a tranquil beach town with yellow sand, colorful buildings, and lush mountains. The water itself is beautiful turquoise and is dotted with boats.
You won't find cars in Yelapa. Instead, people get around on foot, by mule, or by roaring upjungle roads on ATVS.
何w do you get around Yelapa?
The best way to get around Yelapa is on foot. However, you can also enjoy a fun mule ride to the waterfall or along some of the area's jungly trails.
ATVs are also common in Yelapa and can make for an adrenaline-packed morning of exploration. When looking for Yelapa info, it's important to note that there are no cars here, only ATVs and mules.
Mules used to be the main way people from the area got over the mountains, and you're still likely to meet a mule or few during your trip.
What is the best time of year to visit Yelapa?
Yelapa一年到头都是很伟大的访问。何wever, January through June, and November and December, tend to have the best weather.
If you hope to enjoy thebest snorkelingYelapa has to offer, consider visiting during these months as well
️ yelapa mexico weather
The rainiest weather that Yelapa Mexico experiences occurs inJuly,August, andSeptember. The driest of all the months in Yelapa isApril, so conditions could be dusty.
December,JanuaryandFebruaryare the coolest months. However, it's definitely never cold on the Mexico coast — and in fact, winters are the best time to visit.
Is Yelapa Mexico safe?
Yes!If you're considering a Yelapa excursion, you'll be glad to know that this small beach town is one of the safest places in Mexico.
Of course, you should also exercise caution when hiking and engaging in water sports from Yelapa playa.
As always, use your common sense when traveling. Avoid taking excessive amounts of cash or valuables with you, and stow your documents and extra cash in a safe location.
Drink responsibly, and follow the indications of your guide. All this will maximize your Yelapa Mexico safety. The beautiful Yelapa oasis awaits.
何w long is the boat ride from Puerto Vallarta to Yelapa?
The boat ride from Puerto Vallarta to Yelapa, or vice versa, takes about 1 hour. Of course, if you are going on a tour, you may be making additional stops along the way.
Keep in mind the Yelapa to Puerto Vallarta water taxi costs approximately 250 MXN (approx. USD$13) per person one way. The Yelapa water taxi schedule is roughly every hour, but it can change.
Yelapa is located in the southernmost part of the Bahía de Banderas and is a secluded village that is mainly accessed by boat.
湾对面的旅行提供游客许多公司redible views of the surrounding beaches, mountains, and waterfalls.
何w many waterfalls are there in Yelapa?
There are two waterfalls in Yelapa. The first is a 150-foot waterfall that is only a short walk from the beach where you'll arrive.
The second waterfall is more remote and requires a 5-mile hike (roundtrip) along a rocky trail. You'll need to wade across a river a couple of times and then wind through the verdant jungle up to the waterfall.
何w long is the hike to Yelapa waterfall?
The hike to Yelapa's second and more remote waterfall is approximately 5 miles roundtrip. It includes walking over rocky trails, wading through a river twice, and climbing through jungle vegetation.
The first waterfall in Yelapa is more accessible and requires walking one-third to one-half of a mile from the beach into the heart of town. If you aren't sure where to go, simply ask someone for "la cascada" and they'll point the way.
What should I pack for Yelapa Mexico?
If you're wondering what to pack for a trip to Yelapa, Mexico, try to pack light. Since the trip is by water taxi, you won't want to lug a massive suitcase around.
Instead, keep things to the minimum and focus on water sports and jungle adventures.
For example: bring hiking shoes,bug spray,sunscreen, sunglasses, ahat, a beach towel, and lots of water in areusable water bottle.
Some of the trails lead through rivers, so hiking sandals could also be a great choice. In the rainy season, you may also want a rain jacket.
Since there are no ATMs in Yelapa, you'll also want to pack cash.
Also bring a camera, plus snorkel gear if you want to enjoy snorkeling on your own.
何w much money should I bring to Yelapa?
You should bring 1000 to 1500 pesos a day to Yelapa, depending on your spending habits.
Most meals cost between 120-250 pesos (approx. USD$6-13), while drinks tend to cost about 30 or 40 pesos (approx. USD$1-2). Cocktails tend to cost upwards of 120 pesos (approx. USD$6)
一定要考虑你的住宿,如果你基于"增大化现实"技术e paying in cash, and any tours or activities you would like to participate in.
One note:没有自动取款机在Yelapa以来,进口ant to bring the amount of money you think you'll need, plus some extra.
Does Yelapa have WiFi?
Yes! There is wifi in Yelapa, but don't expect strong signals. everywhere you go.
Thanks to Thierry Douet, one of Yelapa's residents, there is now much faster and more reliable internet available in this great little Yelapa Mexico fishing village.
For more information, check outYelapa WiFi,or contact your hotel to ask about the wifi situation. Yelapa Wifi was originally an extension of the Vallarta CoWork network but now is entirely independent.
Is Yelapa accessible by car?
No!Yelapa is not accessible by car. There IS a path to get to Yelapa by land, but it is a rough and rocky road that is only traversable by mule or ATV.
⛵️ The easiest way to access Yelapa is by boat. For this reason, it is sometimes called "Isla Yelapa Puerto Vallarta" or Yelapa Island, even though it is not really an island.
If you plan to visit, check the Yelapa boat schedule. The water taxi from Yelapa to Puerto Vallarta stops running at 5pm.
Are there cars in Yelapa?
No—A Yelapa map will show you that it's only accessible by boat, mule, orATV.
Most tourists take a tour of the area, although it can also be fun to spend a few nights in the town, enjoying the chill beach vibes. No matter how you get there, you're sure to have some fun Yelapa Vallarta adventures!
Final Thoughts: Best Yelapa Tours
Yelapa Mexico is a fabulous destination for anyone who loves the ocean, the jungle, relaxation, and adventure.
✅Pro Tip:Before booking, read the frequently asked questions sections for the tour(s) you're considering to ensure you pick the best one for your needs and interests.
何pefully, by now, you've found theperfect Yelapa toursto help you enjoy this gem of a beach town in the Bay of Banderas!
Mexico Travel Planning Guide
Should I buy Mexico travel insurance?
100%YES!— With basic coverage averaging just $5-10 USD per day, enjoy peace of mind with a plan fromTravel Insurance Master, one of the biggest names in travel insurance. (Read more)
Can you drink the water in Mexico?
No— You'll want to buy aWater-To-Go Bottle, which filters your drinking water so you don't get sick from drinking water in Mexico, and helps keep you hydrated while traveling Mexico. (Read more)
Is it safe to rent a car in Mexico?
Yes— Renting a car in Mexico is one of the best ways to see the country! I always rent withDiscover Cars, which checks both international companies and local Mexican companies, so you get the best rates. (Read more)
Will my phone work in Mexico?
Maybe— It depends on your company, so check with your provider. If you don't have free Mexico service, buy aTelcel SIM Card. As Mexico's largest carrier, Telcel has the best coverage of any Mexico SIM Cards. (Read more)
What's the best way to book my Mexico accommodations?
For Mexico hotels,Bookingis the best site, but for hostels, use何stel World. If you're considering a Mexico Airbnb, don't forget to also checkVRBO, which is often cheaper than Airbnb.
What do I pack for Mexico?
Head to theUltimate Mexico Packing List + FREE Checklist Downloadto get all the info you need on packing for Mexico.
✈️What's the best site to buy Mexico flights?
For finding cheap Mexico flights, I recommendSkyscanner.
Do I need a visa for Mexico?
Likely Not— U.S., Canadian and most European Passport holders don't need a visa for Mexico; butcheck hereto see if you do need a Mexico travel visa. The majority of travelers will receive a 180-DayFMM Tourist Visaupon arrival.